Atlanta Institute of Music and Media Is Hosting an Open House for Musicians In May
May 03, 2023 at 20:08
Duluth, Georgia -
The Atlanta Institute of Music and Media (AIMM) is excited to announce its next Open House event, which will be held on Saturday, May 13th, 2023, at 12 pm, at 2875 Breckinridge Blvd #700, Duluth, GA 30096. Prospective music production and music performance students are invited to attend this free event to learn more about AIMM's immersive and non-stop music atmosphere.
Beginning at noon, the open house will kick off with live student performances before transitioning into sample classes in various fields of study, including instrument-based courses in guitar, bass, vocals, drums, and keyboards, as well as sample classes in music production. Attendees will have the opportunity to tour the school, meet other students, talk to faculty, and learn how to start an exciting career in the music industry.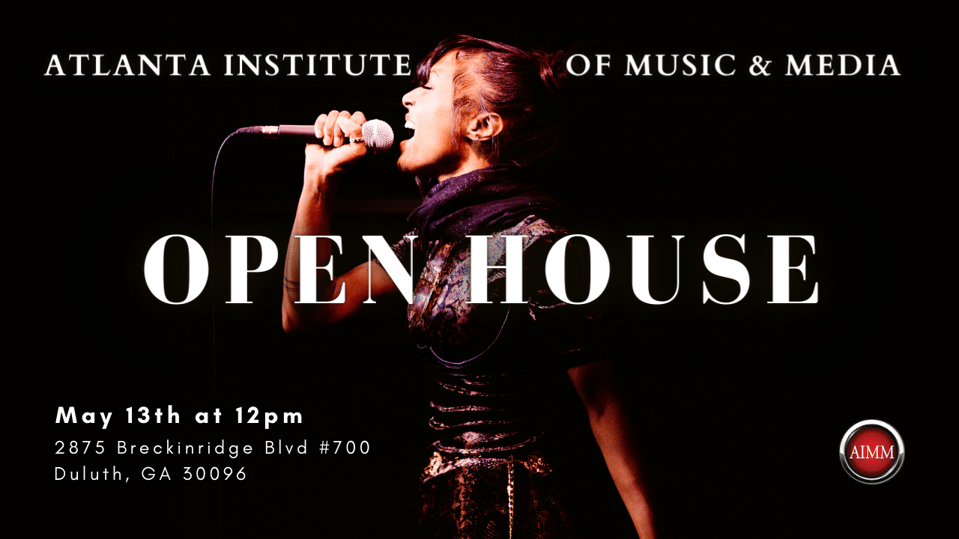 "You do not want to miss this event. If you want to get a feel for what AIMM is truly all about, this is the one to come to," says AIMM President Nite Driscoll. "Our open houses have proven to be an all-around favorite time and time again. Not only do prospective students get to meet our instructors, but they get to meet each other. This could be the first opportunity for them to begin forging those all-important connections that are so critical to this industry, and it all starts at this event!"
AIMM offers several certificate programs for students who want to develop the knowledge and talent required to advance in their careers. Certificates are available in Music Production, Music and Technology, as well as Performance Certificates for Voice, Guitar, Bass, Keyboard, and Drums. Certificate programs can be completed in 12 to 18 months of part-time enrollment.
AIMM also offers degree programs for those looking for a more extensive and comprehensive music education. Students can choose from an Associate of Applied Science in Music Production and Audio for Media, which focuses on music production for music, sound design, and location audio, or an Associate of Applied Science in Music and Technology, which focuses on instrument performance with recording and engineering. AIMM's degree programs can be completed in 18 to 36 months of part-time to full-time enrollment.
At AIMM, students can even pursue their passion for music online. The Georgia school also offers Online Certificates in Music Production, Music and Technology with a Guitar Concentration, and Music and Technology with a Bass Concentration.
AIMM's training for aspiring musicians and music producers employs a unique approach that other accredited music colleges cannot match. The school offers hands-on learning in studio recording sessions, classroom instruction, and live clinics featuring well-known and innovative music industry artists and experts.
AIMM is proud to be based in Atlanta, a city with an amazing music scene that provides opportunities for students to make industry connections. The school is unique in that it has music performance programs for voice, guitar, bass, keyboards, and drums, so the talent is readily available for music production students to work with, so they don't have to hire vocalists and musicians like other music production schools. For music performance majors, AIMM has music production courses that you won't find at other performance-based schools.
The school has nurtured the talent of many musicians and producers who have successfully broken into the music industry. Some of AIMM's notable alumni include Kesha Lee (Childish Gambino, Gucci Mane), KEYZBABY (Beyonce, Cardi B, Wiz Khalifa), Tosin Abasi (Animals as Leaders), Stephen Freeman (Tyrese, Method Man, Mary J. Blige), Turbo the Great (Young Thug, Lil Uzi Vert), and many more.
To attend AIMM's May 13th Open House, readers are encouraged to RSVP on AIMM's website or contact the admissions team at 770-242-7717 or by email at admissions@aimm.edu.
###
For more information about Atlanta Institute of Music and Media, contact the company here:

Atlanta Institute of Music and Media
Nite Driscoll
(770) 242-7717
admissions@aimm.edu
2875 Breckinridge Blvd #700,
Duluth, Georgia 30096