Lice Charmers Launches New Head Lice Removal Clinic in Vancouver Washington
July 18, 2023 at 16:04
Boise, Idaho -
Lice Charmers, a trailblazer in head lice removal services, has proudly unveiled its new, cutting-edge lice treatment clinic in Clark County, Washington.
The latest clinic is set to offer comprehensive and scientifically-validated lice removal services to adequately address a pivotal public health issue for Vancouver WA, Ridgefield, Camas, Battle Ground, Washougal, La Center, and other nearby areas.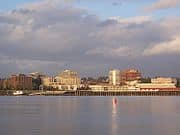 Head lice infestations, an endemic issue impacting children and adults worldwide, pose a significant treatment challenge. Traditional over-the-counter lice treatment kits often prove insufficient, leading to continued discomfort and frustration. Lice Charmers' new clinic in Vancouver WA will provide an all-inclusive range of lice treatment solutions, leveraging proven, research-driven methods for lice, super lice, and nit removal.
"Our new Vancouver WA clinic is a revolution for families grappling with head lice," stated Alexis Charriere, founder of Lice Charmers. "Our distinctive approach to lice treatment and prevention, integrating the most recent scientific discoveries and natural lice removal techniques, guarantees an efficient and non-toxic solution for our patrons."
By adopting holistic lice removal methods, Lice Charmers Vancouver WA lice clinic promises a safer and more productive alternative to conventional lice removal products, which often involve harmful chemicals. The new clinic will deliver meticulous scalp inspections, professional lice removal services, and personalized education on preventive strategies against future infestations of pediculosis.
A core aspect of Lice Charmers' mission is to furnish knowledge and insight about head lice, their life cycle, and their propagation methods. With this devotion to public education, the Vancouver WA clinic aims to dismantle the stigma associated with lice infestations and equip individuals and communities with the resources to effectively eradicate lice.
"We don't solely concentrate on eradicating lice; we are committed to educating the community about this prevalent problem," Charriere added. "Our squad of lice treatment specialists is primed to serve Clark County with not only top-tier services but also the essential knowledge to prevent future occurrences."
The Lice Charmers' clinic is designed to go above and beyond with a thorough process that provides a comprehensive array of head lice solutions. Each team member is extensively trained to manage various stages of infestation and has profound knowledge in understanding the subtleties of lice behavior, including super lice resistant to conventional treatments.
The Vancouver WA clinic's operations are grounded in holistic principles that prioritize the comfort and safety of clients, especially children who are frequently affected. Efforts are made to create a cozy, welcoming atmosphere that mitigates the stress often related to lice removal procedures. Child-friendly amenities and activities are designed to distract and entertain children while the lice removal process is ongoing.
Alexis Charriere, with her extensive background and dedication, introduces a greatly needed innovative perspective to lice removal solutions in Vancouver Washington. Her unyielding commitment to research has culminated in the development of a robust lice treatment protocol that offers prompt relief and sustainable prevention strategies for families.
In addition, Lice Charmers plans to expand its community outreach efforts by organizing educational seminars and workshops in schools, daycares, and local community centers across Vancouver WA, Ridgefield, Camas, Battle Ground, Washougal, and La Center. These initiatives aim to dispel misconceptions associated with head lice and pediculosis and arm communities with the knowledge to manage potential infestations.
In alignment with their mission, the clinic also promotes the use of eco-friendly, non-toxic lice treatment products. These products, available at the clinic, are assured to be safe for home use and serve as an excellent preventive measure to ward off lice, particularly for families with school-going children.
The grand opening of the Lice Charmers' Vancouver WA clinic represents a new era in lice treatment services in the region. With this important addition, families in Clark County and surrounding areas now have a reliable ally in their battle against lice infestations. The team at Lice Charmers warmly invites everyone to visit their new clinic and discover more about their comprehensive array of lice removal services.
Lice Charmers - Lice Treatment and Lice Removal - Vancouver WA, Camas WA 9407 NE Vancouver Mall Dr #105, Vancouver, WA 98662
###
For more information about The Idaho Advocates Law Firm, contact the company here:

The Idaho Advocates Law Firm
Damian Kidd
(208) 995-2444
contact@idahoAdvocates.com
3040 W Elder St, Boise, ID 83705